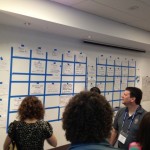 Myself and the rest of the Leanintuit crew attended the Toronto Agile Open Space last weekend in Toronto.  As usual it was a mentally and emotionally exhausting day!  I was happy to re-connect with old friends and to meet new ones.
This year's theme was quality and I proposed a session to talk about the effects that motivation (or lack thereof) has on quality.  Do "motivated" people do higher quality work?  Gallup says that the US economy loses $350 B (Billion!!) per year in lost productivity due to dis-engaged employees.  I decided to see what other people thought about this and played the Moving Motivators game from Management 3.0.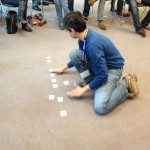 Judging by the large crowd, this was a hot topic so I had 4 people sort their motivators and we talked about the differences.    The point I wanted to make is that we (humans) are fantastic at externalizing blame (that person is bad!!) and also fantastic at blaming the system (I'm awesome, this place sucks!!) when it comes to our own short-comings.  Many people in the session took the motivator cards to use at work and they seemed to enjoy the game!
Andrew Annett popped open more than a few eye-balls with his "Start Red" session where he described how to start projects on red and have the team (or PM depending on your context) figuring out what needs to be done in order to move towards green.  I love his analogy that when you start a project you have a pocket full of money and an empty head.
Declan Whelan talked about technical debt and how to help teams help management understand that they need to focus attention on removing technical debt.  I've always had an issue with that term.  Debt.  I think there's a better metaphor so a friend of mine, Chris Gow, suggested to think about it this way.  Say you want to start cycling.  You buy a reasonably priced bike.  Once you've used it for a while and want to start racing, you need to upgrade it (or toss it and buy a new one) and that takes times and money.    I came away with some ideas and other options for explaining technical debt which was great!
While I didn't go to the session (because I went to it at the Toronto Agile Tour last year), Shawn Button and Chris Farrell talked about their BEGIN model which I love and ideally this public shaming will force them to blog more about it!
During the closing many people thanked Sue Johnston and Andrew Annett for their session on what Agile Coaches can learn from the professional coaching world.  I didn't go to that session but I am fortunate to work with Andrew daily so I floated around between other sessions.  Those 2 are the dynamic duo in my books, unbelievably wicked-awesome communication skills they gots!  (counting down to the email from either of them about that horrid grammar!)
All in all, I had a great time and many other attendees have posted some updates:
If you've posted your thoughts, drop your link in the comments!