There's an old saying, rooted in journalism, that a picture is worth 1,000 words. While we might ask for scientific evidence or challenge the math, most people agree that visuals add enormously to our understanding of things. Humans drew pictures before they developed written language.
And graphics still convey much important information in our physical world.The visual cortex is the largest system in the human brain – and half the brain is devoted to processing visual information. So it makes sense to supplement our messages with visual information. There are communicators, myself included, who believe we should adapt the Media Richness Theory, which puts face-to-face communication at the top of the scale for conveying information, to add a higher level, face-to-face with a whiteboard.
All this has led to the evolution and growing popularity of visual facilitation, in which we create images, in real time, to stimulate, focus, enhance and record a discussion. You don't need to be particularly good at drawing to do this well. The key skill, according to experts, is listening. Sound familiar? That's the key skill for coaches, facilitators, communicators, product owners, user experience experts and, well, pretty much anyone in a leadership role.
How does visual facilitation help meeting participants?
Visuals add to their understanding. With more neural tissue devoted to vision than anything else, you stimulate more of people's brains with images. They also understand faster. We read images faster than we read text. We "get the picture" with just a glance.
They'll remember more of what was discussed. Not only will visual stimulation enhance understanding, it will improve retention and recall. People remember what they see.
They stay on track. Drawing the discussion encourages focus and prevents people from getting lost in the weeds. If the meeting is about the weeds, that's a different drawing.
They may see patterns. As you capture the flow of the discussion, you or the participants may see patterns emerge that might not be noticed with traditional note taking. The picture can depict the flow of ideas, process or products as well as connections between them and their impact on people and things.
They can see what has been covered in the discussion. Better still, they can clearly see their input has been captured.
They stay interested longer. Images are just more fun than lists on flip charts. So people will pay attention for longer.
How does visual facilitation help me, as a meeting facilitator?
You get people's attention. It's a big shift from powerpoint, note taking or capturing ideas in an online tool.
You can capture emotion. Your illustrations can move beyond cold facts and depict the concerns, feelings and reactions of people involved in the discussion.
You can help people focus on the key elements. What you draw is what they will pay attention to.You don't have to cover old territory. People can see what has been discussed.
You can use the finished drawings to share the story with people who were not at the meeting.
You don't need to be able to draw!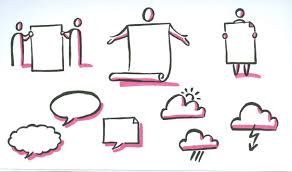 There's a "visual vocabulary" that anyone can learn. One of this is "bikablo," a method that emerged in Europe and has caught on worldwide. You master basic techniques for simple illustrations that you can mix. match, adapt and use to tell the story of your meeting. (Leanintuit is bringing bikablo training to Canada – November 27-28. See below for registration details!)

Other ideas to explore:

Teach your team members to express themselves visually. It encourages collaboration when you all draw together. It's also a way to engage quiet people and those whose first language is not the team's working language.
Attract people to your booth at conferences or trade shows. It will immediately make you stand out from the crowd because something is happening live and in person.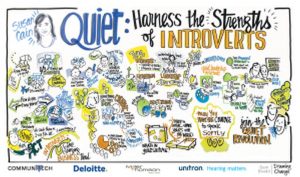 Capture the proceedings from conference sessions.That way people can see what happened in the concurrent sessions they missed. Or they can gather at the recording of the keynote talk and discuss particular elements. (This graphic, by Sam Bradd, depicts a keynote session I attended at a Communitech conference. A great reminder of Susan Cain's excellent talk.)
Create your own illustrations for your presentation slides. This can save you hours of searching through stock image sites. When you create it yourself, you get exactly what you want.
Draw your presentation. Jeff Patton (see image) and Dave Gray, leaders the agile and user experience communities, respectively, use overhead projectors and sketch out their presentations while they talk. Super engaging!
Training in Toronto – November 27-28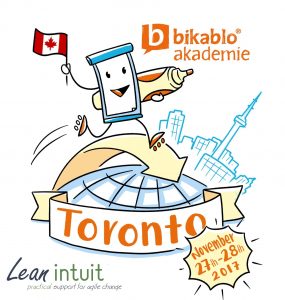 If you can get to Toronto for a couple of days at the end of November, you have a unique opportunity to learn visual facilitation from the best. We've invited Andrea Rawanschad, of the bikablo academie , in Cologne, Germany, to return to Canada and run a second two-day workshop. The first Canadian session, earlier this fall, sold out quickly and was a hit with participants. For those who couldn't attend the first session – or didn't know about it – we'll be gathering in downtown Toronto on November 27 and 28. With a maximum of 12 people in the class, there are just a few spots left, so don't delay. To learn more and register for this unique experience, follow this link.
If you have questions – contact sue johnston.