Coaching Retreats provide any current or aspiring Agile coaches the opportunity to engage purposefully with their peers, dive deeply into their practices, enhance their skills, and broaden their perspectives to better serve their client organizations. The word "retreat" was specifically chosen to represent a time away for deep connection, learning, and growth.
Our Facilitators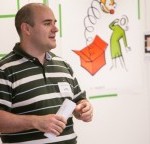 As an expert, I dramatically improve individual and organizational effectiveness. You could reach me by Skype (Skype ID: AgileCafe) or "Google voice" (hangouts) conferences. If you have questions, or need an expert opinion, please contact me via http://agilecafe.org. I will be glad to help you as an expert. I speak English, French, and Spanish.
Ellen Grove is an Agile coach & trainer with Agile Partnership (http://agilepartnership.com) in Montreal & Ottawa, Canada. Ellen helps teams and organizations do better work through coaching them in creating the circumstances in which they can work most productively and effectively. – See more at: http://2015.sparkthechange.ca/speakers/#sthash.9FghctLb.dpuf
Who This is For
At this coach retreat, you'll learn many models and techniques from Agile Coaches and professional coaches. If you're working as a Scrum Master, Agile Coach or Professional Coach, this retreat is for you!
Location Details
The Milton Innovation Centre is located 5 minutes from the intersection of the 401 and Highway 25 (Bronte Road) in Milton. As we expect to be attracting people from all over the GTA, we chose a central location!
Lunch and coffee/snacks will be provided and registration is limited so grab your tickets now!