Releasing Your Team's Intelligent Energy
Thank you for attending our session at Agile Tour Toronto 2011. You can download a copy of the presentation here.
If you would like an electronic copy of the Juice book, we have arranged for free download for attendees of our workshop for the next two weeks. You can also download an audio version of the book here.
Juice also provides an online Juice Check. You can use this tool to find out how much energy your environment releases.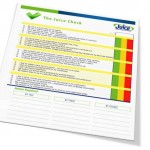 If you are interested in Agile learning in general we have  collected some great books on our reading page.