About Agile Leadership Practices – Management 3.0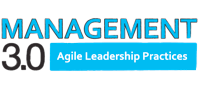 More and more organizations are adopting Agile practices and trying to get them to work in the same structures and hierarchies that ultimately got them in trouble in the first place.  Line managers and project managers struggle with what their role is when self-organizing teams are created and Management 3.0 is the response to give managers, projects managers and leaders in today's knowledge organizations the tools to flourish.
When
June 13 and 14, 2013 – 9am to 4:30pm
Where
Microsoft, 5404 Wisconsin Ave, 7th Floor Chevy Chase, MD, 20815, USA
Instructor
Who it's For
All executives, managers, consultants, team leads and project managers who want to add more effective management practices to their leadership repertoire.
What You'll Learn
Energize People: Learn what truly motivates people, hint, the carrot/stick method of mechanistic organizations is long gone!
Empower Teams: Teams crave 3 things to make them hyper-productive.  Learn what they are and how to foster awesome teams.
Align Constraints: Self-organization doesn't mean chaos!  Learn how to use situational leadership to put the right constraints in place.
Develop Competence:  People love learning, learn how to foster a craftsmanship attitude.
Grow Structure: Software and project teams are often hand-cuffed by organizational constraints, learn how to create the right environment for success.
Improve Everything: Learn what Lean Change is and how to use to to improve anything.
Special Thanks
We are pleased to be partnering with Agilious to bring this event to DC!