Do you build software? Are you curious about emerging technical trends? Do you wonder what skills to focus on next? 
This groundbreaking virtual conference features must-see keynotes and sessions that will help you understand upcoming industry trends and topics and deepen your knowledge of the future of technology. Don't miss this opportunity to learn about emerging Agile practices and techniques from industry experts and thought leaders in the space — and walk away with some great new tools in your arsenal that you can immediately leverage for career success.
 In addition to opening and closing keynotes, session topics include:
Microservices
Continuous Delivery
DevOps
Exploratory Testing
Emergent Design
Functional Programming
Software Craftsmanship
Agile in the Wild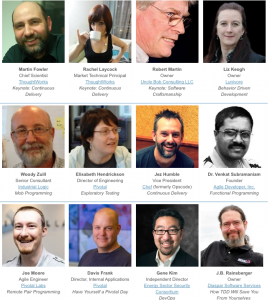 Get your questions answered and network with peers from around the world at this special event – all from the comfort of your office or home. It's a convenient, one-day investment that will pay off for years to come! All sessions will be recorded, so if you miss one, no worries … you can download and view it within 90 days when it's more convenient.
And our very own Declan Whelan will be the host!